Global Standard Rotary (GSR) Wellpoint
Global Pump Standard Rotary Wellpoint pumps are specifically designed for wellpoint and underdrain dewatering applications. Capable of handling both water and air, Global Pump Standard Rotary Wellpoint pumps automatically prime and reprime without air elimination systems or operator intervention. Ease of application is inherent, as the positive displacement pump automatically develops the discharge pressure required.
---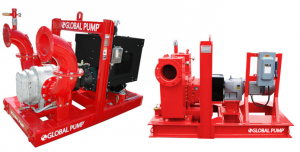 ---
 Global Standard Rotary Wellpoint
Model
Size
Max Flow
Max Head
Max Solids
Downloads (.pdf)
inches
mm
gpm
m3/h
ft
m
inches
mm
6GSRWP
6 x 6
150 x 150
800
151
50
15
2.5
63.5
cutsheet   diesel curve
8GSRWP
8 x 8
200 x 200
1600
302
50
15
2.5
63.5
cutsheet   diesel curve
12GSRWP
12 x 12
300 x 300
3200
603
50
15
2.5
63.5
cutsheet   diesel curve
---
Features
Global Pump's proven rotary helical lobe pump with pulsation-free convoluted, 4-lobe rotors
Replaceable wearplates for both front and rear covers for extended cover life
Silicon Carbide mechanical seals
Direct drive through a flexible coupling and engine-mounted reduction gearbox
Large suction and discharge header tanks for easy priming, draining and solids settling
Recirculation line between header tanks to ensure rotors are always wetted
Standard engine control panel provides preset emergency shutdown protection and allows the addition of automatic level control
Rotors, cover seal and product seals can be accessed for inspection, service or replacement by simply removing the front cover


---
Options
Fuel tanks for extended run times and/or remote location as required
Highway trailer with integral fuel cell/chassis, lights, fenders, tie downs, lifting bail, front and rear jacks
Sound attenuated enclosure options
Hose racks, accessory containers and other custom fabrication available as required
Wide range of suction and discharge fittings available including Global's own "QD" Quick Disconnect fittings and accessories


---
Sound Attenuated
Global Pump
SoundGuard

Enclosure

12-gauge Galvannealed-Steel (or optional stainless steel), double-sided-galvanized sheet panels insulated with a 1.25″ thick acoustical foam barrier fire retardant composite reduces noise level to no more than 68 db at 30 feet (9 m). Designed for upward exhaust of combustion gases and cooling air. Panels are removable for maintenance and repair. Panel doors, with locks, for access to the pump, engine, priming system and controls for routine servicing, lubrication and fueling.