Global Pump Fuel Cubes
Pump Back Up Fuel Tank
The Global Pump Fuel Cube is a transport-approved, double-walled fuel tank. It is specifically designed to provide on-demand fuel supply (environmentally and efficiently). Available with DOT-approved highway trailer.
Tie down points provides safe loading of even when stacked
Internal baffles minimize fuel surge during transport and handling
Double wall construction assures a clean environment
Compact weather proof, lockable cabinet for housing manual or electric transfer pumps and the extra Feed and Return couplings
Removable feed and return dip pipes assure a reliable standby tank for Pumping equipment
Extend your equipment run times, reduce your costs, and decrease the carbon footprint of your operations with the GLOBAL PUMP FUEL CUBE line of transportable fuel storage tanks.
---
Download Global Fuel Cube cutsheet (PDF)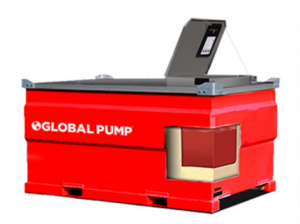 ---